February 2012
February 25, 2012
Sondra's musings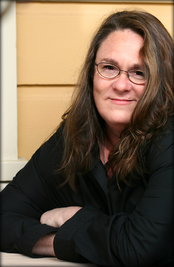 Before we open the door to the restaurants to welcome our guests, there is a particular buzz that I especially love. The rhythm of the group working together as we get ready in the kitchen and dining room — that group energy always excites me. Collaboration on any project brings about a dynamic creative synergy that collides together, combusting into something magical.
The realization that a similar energy was beginning to come together around an upcoming event really resonated for me.  I was honored to be asked to participate in the  March 3rd fundraiser for the film, "The Organic Life," being screened at Jack London's House of Happy Walls.
The filmmaker, Casey Beck, has documented her boyfriend Austin's day-to-day work at a farm. That was the starting point for a collaboration that seemed serendipitous to me:
Austin works at Paul's Produce, the company that supplies our restaurants with some of the finest produce that we are lucky to procure (especially their arugula which is the basis of our signature fig & arugula salad). We want to support any project that highlights the incredible work done by Paul, Candi and the staff of Paul's Produce.
The film struck a chord for us on a personal level as well.  Over the past three years, as you know, we have been farming at a few different locations, including Imagery Estate Vineyards. This isn't exactly something new for us, we just do it now on a much grander scale.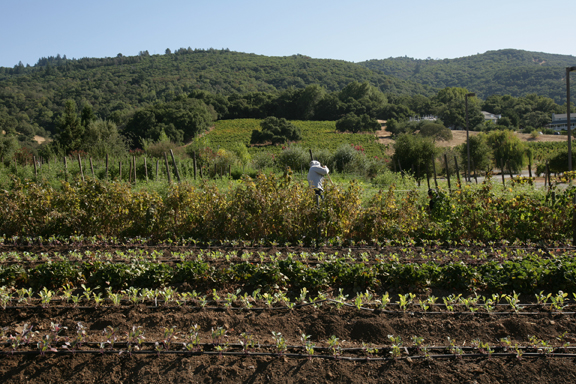 The farm is John's pet project, and he has been deep in dirt (compost) learning what it is like to be a farmer and how that integrates into his life as a Chef. Our motivation for the farm project was to give us a better understanding of what it takes to grow food and to share that with our staff while deepening their appreciation of those hardships and rewards.
So I truly understand Casey's desire to invigorate people's enthusiasm to support their own local farmers.  It was such a natural fit for us to provide the food for this special event showcasing "The Organic Life." We hope you will join us on March 3rd for a great time and to celebrate our local farmers.
There is even more serendipity to the collaborative elements of this project. Learn more about the film and the March 3rd fundraiser.
Upcoming Events
2/11 KRON TV news Sondra interview
2/27 through 3/4 Sonoma Restaurant Week-check our menus
3/24 & 3/25 Rhone Rangers Weekend
3/25 Girlfriend's Getaway Brunch at ESTATE
Plats du Jour Book Signings with Nibbles:
2/18 Williams-Sonoma in Union Square, San Francisco
2/22 & 2/23 Tyler Florence stores Napa & Mill Valley
3/16 Ramekins Demo & Interview
4/14 Cooks with Books lunch event with Book Passages at ESTATE
Negroni & Nibbles at ESTATE
on Tuesdays from 5 pm
$6 Negroni Cocktails (1st one served with chef's choice comp antipasti)
Check out more upcoming Fig Events.
And keep up with our Wine Blog.
SAVE THE DATE – BOOK EARLY
Special FIGevents in New York City
For our East Coast friends:
We will be cooking dinner at the
James Beard House
March 28th.
Join us as we cook from the new book!
And while we are in NYC, we will do a cooking class at
DeGustibus Cooking School
March 26th 5:30 – 8 pm



Fairfield Cheese Company owners Laura Downey and Chris Palumbo are long-time friends who share a passion for specialty foods and a desire to introduce others to them. Located 55 miles from New York City, they have a fairly well-traveled clientele who appreciates good food. The two realized that Fairfield needed a spot that supported an already established grass-roots effort to promote locally grown, real foods. The shop is committed to carrying artisan and farmstead cheeses, charcuterie and other accompaniments that are locally sourced or come from small producers around the country and the world.  Laura and Chris offer ongoing cheese seminars, and they are located conveniently next to a wine shop, which enables them to work closely with their customers creating a pairing of cheese, bread and wine.  Laura says, "Our customers love your Nana Mae's Gravenstein apple, raisin, & fig mostarda as a complement to our cheese.  Some also use it on grilled cheese sandwiches. We have one customer who buys it four jars at a time, so we imagine they are eating it on everything!" We are happy to have FIGfood products in Farifield Cheese Company's shop.
If you don't live close by, you can visit our FIGfood store online any time.
Where Can You Buy Plats du Jour?
Online at our FIGstore & Amazon.com
You'll also find it at all three restaurants and in the following retail outlets:
Wellington, Benziger, Imagery, Kendall Jackson & Ravenswood Wineries
The Sign of the Bear
The Corner Store
Readers Books
Artefact at Cornerstone
Napa Valley Kitchen Gallery
Shackfords
Omnivore Books
Book Passages
Tyler Florence Stores
Copperfields Bookstores

We are thrilled to introduce our new Book Distributer:

If you'd like to see the book in your favorite retail outlet, ask for it or contact Cameron & Company to let them know.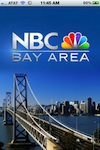 In their end of year wrap-up of "Good Taste: The Year in Local Food," NBC Bay Area noted that Plats du Jour was "one of the cookbook titles most worth your attention!"
figbits archives
subscribe to figbits
figbits editor & media contact: Anne Abrams